Customized Maintenance and Repair Consultation and Service
At National Heating and Ventilating, everything we do is driven by our values and understanding of our customers' objectives. We value our customers. Rather than pressuring our customers into paying for services they do not need, we customize maintenance and repair plans to fit you.
Understanding Your Maintenance Needs
Every facility is different, and every facility's maintenance needs are different. That is why we do not quote a one-size-fits-all preventative maintenance schedule or package repair services. When it comes to maintenance and repair, everything National Heating and Ventilating does is tailored to meet your unique needs.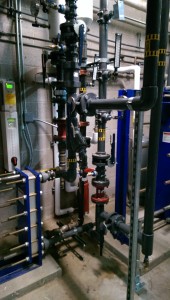 The first step in providing preventative maintenance and repair is understanding what you need. We take the time to listen to your concerns, answer your questions and assess your facility and equipment.
Once we know what preventative maintenance means for your facility, we can help maintain equipment and property to avoid costly operational interruptions and repairs. Our services include:
Creating a maintenance schedule to ensure optimal performance of all equipment and systems
Proactively maintaining equipment to extend its life and effectiveness
Coordinating the work of all maintenance providers
Making recommendations for system upgrades to increase energy efficiency, longevity of the system, etc.
Your Satisfaction Matters to Us
Customer satisfaction matters even after our work is complete. We enter into every project with the intention of fostering lifelong relationships with our customers. When you need us down the road, all you need to do is contact us. We want to help you understand what to expect for optimal system performance for years to come.
Contact National Heating and Ventilating for preventative maintenance and repair services customized for your facility and systems.
It's not the company; it's the people.