Many general contractors and owners recognize National Heating and Ventilating as one of the top mechanical contractors for our experience, versatility, quality and safety. With more than 80 years in the business, we have demonstrated our capacity to work on a wide range of projects and perform all work to the highest standards and greatest integrity.
Unlimited Range of Mechanical Systems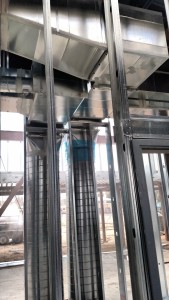 National Heating and Ventilating provides the full scope of services needed to install and maintain a new or retrofit mechanical system. We have the capacity and experience to:
Fabricate custom ductwork and other specialty systems
Install the system to meet design specifications and comply with all building and safety codes
Procure and setup equipment
Coordinate installation with all other subcontractors
Provide value engineering services
Perform start-up processes to ensure system is fully operational
Our employees have the training and skills to design, fabricate, install and maintain mechanical systems to move any material—air, water, gas, etc.
Unparalleled Expertise and Professionalism
While the scope of our mechanical system experience is impressive, it is not what sets National Heating and Ventilating apart from our competition. Our values are what make us stand out.
At National Heating and Ventilating, we value quality, integrity and commitment. Our employees have more than the right skill set; they have the right attitude. Everyone at National Heating and Ventilating takes pride in a job well done, and we take the extra step to make sure the job is well done.
We take the time to understand what you want and need, and we deliver. We are conscientious of how our work affects others on the project, and we communicate and coordinate with all other trades to ensure forward progress. We foster lifelong relationships with our customers, so if they need us in the future, we are there for maintenance, repair, consultation and resource networking.
Contact National Heating and Ventilating for full mechanical system installation service.
Contact National Heating and Ventilating for unmatched mechanical system installation expertise.